The NHL has announced the ballets for the All-Star game, and of the 104 players selected there were four Sabres.
Ryan Miller was selected as a goalie, and given how he has done this season he deserves to be in the game. At this point he leads the league in goals against average at 1.62. In save percentage he is second in the league at .942, just behind the .944 posted by Boston's Tim Thomas. Furthermore he hasn't allowed a single goal against in the last 125 minutes of game time.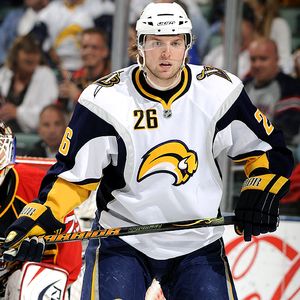 The second Sabres all star selection is Thomas Vanek. As the Austrian is currently leading the league in goals with eleven, while he is tenth in the league in total points with 14. Also very deserving and very probable to make the all-star team.
The other Sabres forward selected was Derek Roy. The selection of Roy is a bit odd, as he is only ninth in points on his own team, falling behind players like Kotalik and Pominville who are beating out Roy in every statistic that there is. It's not that Roy has been doing bad, but he should not be the team's second choice.
On defense the only Sabre selected for the ballet is Teppo Numminen. A bit of an odd choice, especially given how influenced by last years numbers these selections appear to be. Still I would pick Tallinder or Rivet as the team's top player on the blue line. Even Spacek deserves a mention with the eight assists he has earned so far this season. Probably none of Buffalo's defense will make it in.